Please rate Bidvertiser affiliate program.
Your opinon and rating of Bidvertiser will other webmaster help to decide to use this program. You can also leave comment on Bidvertiser program and rate it.


Bidvertiser

Bidvertiser is site-targeted bidding-based marketplace connecting publishers with advertisers. Place the BidVertiser text ads on your website and make money online by getting paid for every click. This is very good source of money for blogs and other websites. You get paid for every click and displayed are only ads with highest bid. You can be paid insantly by PayPal when you reach $10. You can customize your ads or block ads you dont want to display. There is also referral program so you get money by referring webmasters.
VOTING FOR Bidvertiser affiliate program.
Please cast your vote for Bidvertiser between best or worst.





BEST Pay Per Click with high CPM rates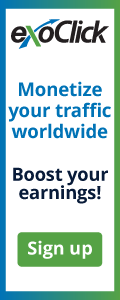 Monetize adult traffic or movie sites