You are welcome to write some comments on the Bin-Layer program.
We welcome your suggestions that help us to improve money earnings with the Bin-Layer. Just leave here a message how are you doing with the Bin-Layer and share your knowledge with other webmasters.


Bin-Layer

Bin-Layer.DE is a company that I was looking for long time. Bin-Layer.DE is converting mostly German speaking traffic but recently they added also other advertisers and they are paying now also for US traffic and some other EU and Worldwide traffic. For DE traffic you get up to 6,00 € and yes earnings are in EURO so if you compare this program to other similar networks paying in USD than Bin-Layer should make you more money.

You can use different promotion methods (LayerAd: 4,00 €, HybridAd: 6,00 €, PopAd: 2,00 €) These are rates for German traffic. Overview of other country rates is in members area where are also precious stats and tools. Payments are sent on request!!!

Once you reach minimum of 35EUR than you receive your money in 1-2 weeks since this request. Payments are sent via bank transfer or traditionally via Paypal.
REVIEWS AND COMMENTS ON Bin-Layer program.
Page: [0]
---
Kochergin Valery
Rating: 1
Binlayer.RU the company which operated under franchise from Binlayer GmbH binlayer.de, with the permission of Alexander Alexander co-owner of the project Admitad GmbH was granted a franchise binlayer.RU.The project closed, there are still many people who have not paid compensation. I have not paid more than $ 2000.
Posted: May/19/2011
Make $100s per day by sharing links.

BEST Pay Per Click with high CPM rates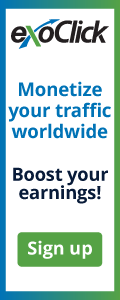 Monetize adult traffic or movie sites