You are welcome to write some comments on the PogAds program.
We welcome your suggestions that help us to improve money earnings with the PogAds. Just leave here a message how are you doing with the PogAds and share your knowledge with other webmasters.


PogAds

This company doesn't pay now
PogAds is affiliate program which is very close to Google Adsense. This program offers very easy navigation throught the site and you will easy set your advertising campaign.

PogAds lets you sell your advertising space, so you need to create AD zones on your pages and than you have full control what adverts/banners you will display on your site.

PogAds is accepting much more sites than Adsense so also proxy websites and some other niches which would be declined by Adsense are accepted here.

Added value here is revenue sharing. You can share revenue with your members so if you run a membership based site such is Forum, Blog or Social sites you can let your site members to share revenue generated by your site and PogAds.

You are paid based on the bid which was put on the AD by Advertiser. I could not find the percentage which you get after.

PogAds is good for advertisers since they can start getting new traffic to their sites and you pay only if the click is valid. Since it is new site the bids are lower.

Payments are made by check or Paypal when you reach minimum of $20.
REVIEWS AND COMMENTS ON PogAds program.
Page: [0]
---
vijay
Rating: 2
I would like to join as it sounds well. But at present they are not accepting new registrations.Thank you.
Posted: April/06/2012
---
Scott
Rating: 2
Site is not accepting applicants at this time. 4512
Posted: April/05/2012
Make $100s per day by sharing links.

BEST Pay Per Click with high CPM rates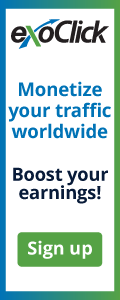 Monetize adult traffic or movie sites