You are welcome to write some comments on the PropellerAds Media program.
We welcome your suggestions that help us to improve money earnings with the PropellerAds Media. Just leave here a message how are you doing with the PropellerAds Media and share your knowledge with other webmasters.


PropellerAds Media

PropellerAds is CPM affiliate which will pay you up to $10 CPM. These are highest CPM rates among ad networks for Onclick format. The provide its publishers with automatic ad campaign optimization system by country and by site.

Their staff perform manual check to exclude all unsafe and suspicious advertisers.
As publisher you would have access to detailed and convenient real-time reporting.
And the best thing is that 100% of your inventory is monetized - easy sign-up form and quick start.

About Onclick ads

User initiated full page ads. May be implemented in any place of the page. Helps to get up to 200% more revenue from your site audience. Doesn't effect results from classic ad formats and doesn't drop your search engine ranking. Is not annoying being at the same time most effective for the advertisers, gives up to 10$ CPM.

Our onclick technology helps to set this format the way you prefer in terms of frequency capping, targeting, fits specific sites as well.

Best CPMs are achieved for NORTH AMERICA, AUSTRALIA, WESTERN AND EASTERN EUROPE
Great results on media entertainment/gaming inventory.

There are also "In-banner video (Pre-rolls, mid-rolls, post-rolls, Pre-game)" which are 10-30sec invideo advertisements... so you can imagine with what types of traffic and which content you can get nice monetization.
This video advertising is right now available for US,GB,DE,FR,RU,UA,CA.
And lastly there are Sliders, Sponsored Links and other ad formats...
PropellerAds can monetize also mobile traffic.

Paments are sent even on NET15 basis via Payoneer, EPESE, Webmoney, ePayments and bank wires.
REVIEWS AND COMMENTS ON PropellerAds Media program.
There is no review. You are welcome to write comments on this affiliate program.
Make $100s per day by sharing links.

BEST Pay Per Click with high CPM rates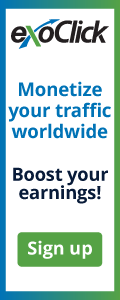 Monetize adult traffic or movie sites