You are welcome to write some comments on the Pulsepoint program.
We welcome your suggestions that help us to improve money earnings with the Pulsepoint. Just leave here a message how are you doing with the Pulsepoint and share your knowledge with other webmasters.


Pulsepoint

This company doesn't pay now
IT LOOK LIKE THEY CHANGED THE REFERRAL CONDITION AND I DID NOT GET RESPONSE FOR ONE WEEK TO MY EMAILS ASKING WHERE TO FIND REFERRAL STATS. BUT THAT IS TERRIBLE TO GET REFERRAL BONUS JUST FOR ONE MONTH. ALL OTHER PROGRAM PAY LIFE TIME SO THIS IS NO GO FROM ME. I WOULD NEVER JOUNED UNDER SUCH CONDITION.

Pulsepoint, originally Contextweb is an unique CPM advertising network. It works with almost any other ad program to ensure that web publishers make the most money possible. If you sign up now we'll both get 5% more revenue for your first full month!

PulsePoint is perfect Google AdSense alternative and you can make even more than with AdSense... but you are the one who sets the bid price... You simply set CPM price for banner and if there are advertisers willing to pay for it you start making money... It is good to place not more than 3 banners of different sizes. Than you get different advertisers also and Fill rate would increase. They pay per each page load but not for very fast browsing...

In General pages where users are staying long and browsing page by page are earning most. Each banner impression is counted. In case there are not PulsePoint Advertisers than they will fill the spot with some ad from partner network and you can select if you want this or not. So lets try if you can make more than with AdSense.

This company has Net45 payments and send it via Check or Paypal. This company is based in US and its growing fast.
REVIEWS AND COMMENTS ON Pulsepoint program.
There is no review. You are welcome to write comments on this affiliate program.
Make $100s per day by sharing links.

BEST Pay Per Click with high CPM rates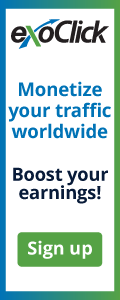 Monetize adult traffic or movie sites