You are welcome to write some comments on the RealtechNetwork program.
We welcome your suggestions that help us to improve money earnings with the RealtechNetwork. Just leave here a message how are you doing with the RealtechNetwork and share your knowledge with other webmasters.


RealtechNetwork

This company doesn't pay now
NEVER MADE ANY MONEY TO BE PAID AND NOW ITS GONE

This CPM company is also good. But the payout only depends on your performance. The amount you earn is at your CTR (Click through RATE) So if even 5 people click your ads per 1000 impressions you get around $0.30 CPM rate. Good Rates if you have US/UK/Canda traffic. Non Repeating traffic is more preferred. Payments are by PayPal, Check and Wire Transfer.
REVIEWS AND COMMENTS ON RealtechNetwork program.
There is no review. You are welcome to write comments on this affiliate program.
Make $100s per day by sharing links.

BEST Pay Per Click with high CPM rates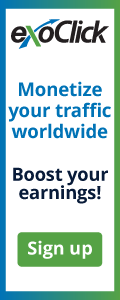 Monetize adult traffic or movie sites