You are welcome to write some comments on the MediaText program.
We welcome your suggestions that help us to improve money earnings with the MediaText. Just leave here a message how are you doing with the MediaText and share your knowledge with other webmasters.


MediaText

This company doesn't pay now
MEDIATEXT SENT LAST PAYMENTS AND CLOSED DUE TO INTERNAL PROBLEMS:(

MediaText is in-text ads advertising company having high goals to become leading company in the industry.

MediaText has its own advertisers so there is no middle man like with other networks so you get more money straight from what advertiser pays. Publishers get 50% rev share...

MediaText gives advertisers the ability to target consumers through keywords and deliver text, image, video or flash animated advertisements. Publishers can monetize the content of their site without sacrificing additional space. Publishers also benefit from active or passive income from referrals to the MediaText publishers program.

There is also Great referral program which is paying 5% of your referral webmaster make. That is including earnings from his referrals and his referrals and so on.

MediaText is based in Canada and pays webmasters with cheque, paypal, ePassporte, Stormpay and wire. Minimal payment is $50.
They are looking mainly for webmasters who can deliver more than 5mil page wiews per month but other sites are also welcome to join. If you have any questions there is Canadian toll free number or ICQ support ready to help you.
REVIEWS AND COMMENTS ON MediaText program.
Page: [0]
---
gurungparsad
Rating: 10
I am looking for oppurtunities.everysides is winning.
Posted: May/13/2008
---
Webmaster
Rating: 10
Promotion where you get 100 revshare was extended untill end of February 2008. So if you have English website full of content and English text than this is right for you. MediaText will display ads only to visitors from the countries accepted by their advertisers. And there are also video ads ready. At this time, these countries are: Argentina, Australia, Australia, Austria, Brazil, Canada, Denmark, Finland, France, Germany, Great Britain, Hong Kong, India, Ireland, Italy, Korea, Mexico, Netherlands, New Zealand, Norway, South Africa, Spain, Sweden, Switzerland, Taiwan and United States. The Avarage CPC is right now is above $0.20 so you get in avarage more than 20 cents for each click.
Posted: January/24/2008
Make $100s per day by sharing links.

BEST Pay Per Click with high CPM rates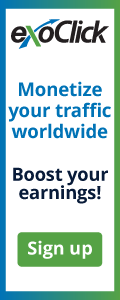 Monetize adult traffic or movie sites