Please rate BackLinks affiliate program.
Your opinon and rating of BackLinks will other webmaster help to decide to use this program. You can also leave comment on BackLinks program and rate it.


BackLinks

This company doesn't pay now
SITE IS CLOSED.

BackLinks.com lets you to buy, sell or trade links and make money when you just put simple text link on your web site. This model is similar to TLA but there is also possible to trade links with BackLinks.

Payments are sent only via Paypal currently. Rates for text links are clearly explained in the FAQ section but you get paid depending on what PR you have and if you put links on homepage or inner pages. Even for links with PR1 is possible to make few dollars per link.
VOTING FOR BackLinks affiliate program.
Please cast your vote for BackLinks between best or worst.





BEST Pay Per Click with high CPM rates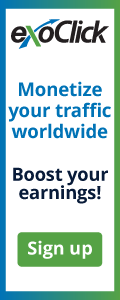 Monetize adult traffic or movie sites