Please rate Clicksor affiliate program.
Your opinon and rating of Clicksor will other webmaster help to decide to use this program. You can also leave comment on Clicksor program and rate it.


Clicksor

Make money with this pay per click search engine. You get 70% of revenue sharing. Payments are send by checks or PayPal ($20 minimum) every two weeks. For referring new webmasters you get paid 20% of his earnings up to 5 levels deep. Banners looks very similar to Google adwords banners.
Type of ads:
XML Feed, Contextual link or text banner or graphic banner or all together, CPM and CPC graphical banner and popunder or floating ads are possible. Try this PPC search engine and you will see how much can you make.
VOTING FOR Clicksor affiliate program.
Please cast your vote for Clicksor between best or worst.





BEST Pay Per Click with high CPM rates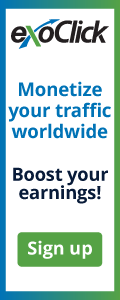 Monetize adult traffic or movie sites