Please rate ROI Rocket affiliate program.
Your opinon and rating of ROI Rocket will other webmaster help to decide to use this program. You can also leave comment on ROI Rocket program and rate it.


ROI Rocket

ROI Rocket is a unique pay per action (CPA or pay per lead) network that joins the top advertisers on the Internet with you as publisher willing to promote their offers based on a pre-determined comissionable amount. It uses innovative tracking technologies and proprietary affiliate management techniques to pre-select appropriate sales channels and increase clients. ROIRocket offers quality sponsors with high offers and 3 basic programs CPC, CPS and CPA. Payments made by paypal or check minimum payment treshold is $25. There are offers paying around $22 per action.
VOTING FOR ROI Rocket affiliate program.
Please cast your vote for ROI Rocket between best or worst.





BEST Pay Per Click with high CPM rates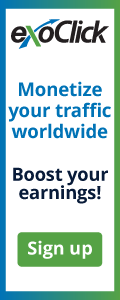 Monetize adult traffic or movie sites