Please if you like Dynamic Oxygen program, we will be happy if you recommend it to your friends.
You can easy send Dynamic Oxygen link to your friends and they will come here. Share Dynamic Oxygen with your friends.


Dynamic Oxygen

This company doesn't pay now
SITE IS DOWN, LOOKS LIKE THERE WAS NO MONEY MADE BY ANYONE

Dynamic Oxygen is on the market already some time since 2007 and its strange I did not hear about them... After some researching I found out it is not paying highest amounts but there are people happy with their results also.

So I guess Dynamic Oxygen is not suitable for all kinds of traffic and again has to be tested to find out if its good or not with your website... Anyway there are not signs that they are not paying, so now it is up to you to give it a try.

They claim to have very high eCPM. They have several marketing AD formats like peeler ads, layer ads, anchor ads and some more. There are Ad Codes plugins for Blogs like Wordpress, Blogger or any other platform, so it makes integration of thir ADs even more simple.

Support and payments are on time. Payments are sent via Paypal, Check and Bank wire... and make sure to submit your TAX forms so you can get your payment... Minimum payment is $50.



If you have a friend that you would like to recommend this page to, or if you just wish to send yourself a reminder, here is the easy way to do it!

Simply fill in your name and e-mail address, and the e-mail address of the person(s) you wish to tell about Dynamic Oxygen, and click the SEND button.

If you want to, you can also enter a message that will be included on the e-mail.

After sending the e-mail, you will be redirected back to the page you recommended!


Make $100s per day by sharing links.

BEST Pay Per Click with high CPM rates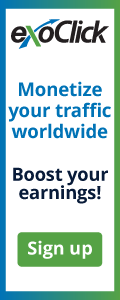 Monetize adult traffic or movie sites