Please if you like ExoClick program, we will be happy if you recommend it to your friends.
You can easy send ExoClick link to your friends and they will come here. Share ExoClick with your friends.


ExoClick

ExoClick is here over 5 years now and provides Adult and main stream advertising solutions and can monetize any web & mobile traffic. They have several advertising methods. So you can choose from: Text Ad, Banner Ad, Popunder, Instant Message, Interstitial, Direct Link, In-Video.

Navigation at their site is simple and its easy to set up your campain after you add your site. They are not so strict when accepting new publishers so even with lower traffic you would be accepted.Advertisers can have their ads placed on relevant websites according to the keywords used, and website owners can receive a share of the advertising revenue when their visitors click on these ads.

Payments are sent weekly every Monday and minimum is $20. Now they added also Payoneer payment plus they have Paypal and bank wire. I did research and there are mostly positive feedbacks about this company so it seems to be as a good Adsense alternative.



If you have a friend that you would like to recommend this page to, or if you just wish to send yourself a reminder, here is the easy way to do it!

Simply fill in your name and e-mail address, and the e-mail address of the person(s) you wish to tell about ExoClick, and click the SEND button.

If you want to, you can also enter a message that will be included on the e-mail.

After sending the e-mail, you will be redirected back to the page you recommended!


Make $100s per day by sharing links.

BEST Pay Per Click with high CPM rates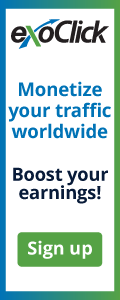 Monetize adult traffic or movie sites