Please if you like TrafficRevenue program, we will be happy if you recommend it to your friends.
You can easy send TrafficRevenue link to your friends and they will come here. Share TrafficRevenue with your friends.


TrafficRevenue

This company doesn't pay now
SITE IS CLOSED

TrafficRevenue is a new generation PTP/CPM/XML affiliate program. They are paying for all US,CA and West Europe traffic sources that you provide to them. You can choose from many traffic delivery methods: Paid-to-Promote link, you can put our CPM, XML feed for PPC Search Engines, link redirection (you can generate link redirection pages and get cash each time someone else clicks your link).

Their rate for US traffic is right now $3.13 for 1000 unique visits and this rate is still growing. On their website you can find whole CPM table with all countries that are paid.

You get paid on request after you reach $5 and payment is sent via paypal right now.



If you have a friend that you would like to recommend this page to, or if you just wish to send yourself a reminder, here is the easy way to do it!

Simply fill in your name and e-mail address, and the e-mail address of the person(s) you wish to tell about TrafficRevenue, and click the SEND button.

If you want to, you can also enter a message that will be included on the e-mail.

After sending the e-mail, you will be redirected back to the page you recommended!


Make $100s per day by sharing links.

BEST Pay Per Click with high CPM rates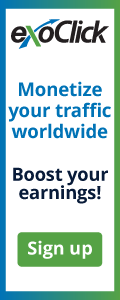 Monetize adult traffic or movie sites