Best Pay Per Impression affiliate programs on the net. Get paid per impression CPM. These programs are tested and always paid on time.
1
PopCash


Rating 5.22

---

Hits
5537


---

20 th Dec 2013

PopCash is already experienced popunder network being paying publishers over 2 years. What I could see is that this company is located in Romania and has good promotions including facebook or linkedin. Almost all publishers are accepted in the network.

They have very clean ads and they test advertiser landing pages multiple times per day. There is intuitive and very easy to use user admin interface. Platfor offers many targeting & optimizing possibilities and various traffic sources.

Their minimum payment is $10 and this is sent via Paypal, Payza or Paxum.
2
PlugRush


Rating 5.22

---

Hits
4602


---

20 th Dec 2013

PlugRush is a rock star in adult CPM and popups affiliate programs. As it is modern now you can monetize beside webtraffic also mobile traffic as PlugRush uses customizable widgets to show ads and content in a new innovative way.
You can simply build your own unique widget in minutes, place it on your website and start making money right away.
With this affiliate network that is mainly targeted to adult publishers you can simply make money as publisher or obviously you can also advertise. But what is extra is trading platform so you can basically exchange money... so once you make money as publisher than you can spend them as advertiser.

Beside standard marketing materials has plugrush also plugins for Wordpress or API for developers.
Website is run in most major languages.

This adult affiliate network pays you also weekly and payment is sent via Paxum, Paypal, Payoneer, RedPass or Wire transfer.
3
PopAds


Rating 5.17

---

Hits
8130


---

5 th Aug 2010

PopAds is simply the best paying advertising network specialized in popunders on the Internet. They guarantee you that no other popunder ad network will pay better than us! Just register and see for yourself. Prepare to be astonished! Popads are under your control. It is you who choose the rate! You can choose the minimal bid(price of a single popunder) you accept, you can also limit the number of popunders shown to a single visitor during a day. Furthermore you can refuse to accept popunders with sound or with other annoying elements. They offer industry highest rates and the best international coverage. Average revenue for 1000 US unique visitors on a website publishing our code was never below $4.00 USD! Except that, PopAds have advertisers for over 40 countries including North America, Southern Asia, India, Western Europe and Australia. You can request withdrawal of your PopAds revenue anytime you want. Usually, you will see money in your PayPal or AlertPay account within 24 hours. Your earnings are deposited in a kind of wallet, so you can even use them to buy popunder traffic to your own websites.
4
ExoClick


Rating 5.04

---

Hits
16135


---

14 th Dec 2011

ExoClick is here over 5 years now and provides Adult and main stream advertising solutions and can monetize any web & mobile traffic. They have several advertising methods. So you can choose from: Text Ad, Banner Ad, Popunder, Instant Message, Interstitial, Direct Link, In-Video.

Navigation at their site is simple and its easy to set up your campain after you add your site. They are not so strict when accepting new publishers so even with lower traffic you would be accepted.Advertisers can have their ads placed on relevant websites according to the keywords used, and website owners can receive a share of the advertising revenue when their visitors click on these ads.

Payments are sent weekly every Monday and minimum is $20. Now they added also Payoneer payment plus they have Paypal and bank wire. I did research and there are mostly positive feedbacks about this company so it seems to be as a good Adsense alternative.
5
Popunder


Rating 0

---

Hits
6091


---

18 th Dec 2013

Popunder.net seems to be long time in the business and I can see from their global stats that the top publishers are making over 30 $ per 1000 hosts. So that is the highest number I saw... I assume averages could be above 10 $ per 1000 hosts and all depends on traffic source and content. Payments are sent on request and minimum payment is just 2$. Payments are sent via Payoneer, webmoney, Paxum, epayments. Popunder says that in 6 years operation the traffic of websites using their code did not dropped more than 1% in traffic... or at least no one complained. So it might be good to try and see yourself.

=Useless


=Boring



=Alright




=Superb





=Outstanding

BEST Pay Per Click with high CPM rates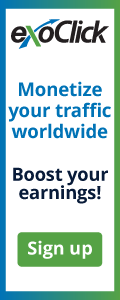 Monetize adult traffic or movie sites