Please rate CPM Fun affiliate program.
Your opinon and rating of CPM Fun will other webmaster help to decide to use this program. You can also leave comment on CPM Fun program and rate it.


CPM Fun

This company doesn't pay now
THEIR WERE PAYING BUT ION ONE STAGE STOPPED... I HAVE THERE OVER 150USD IN REFERRAL EARNINGS IN LAST 2 YEARS WHICH ARE UNPAID.

CPM Fun is CPM AD network focused on entertainment traffic. Once you have a related website to games, movies, music than do not wait and join them. Watch your revenue growing like never before!

You simply place banners at your site and get paid per every raw impression. You can choose if popups will be shown or only that banner and make even more money. With popups enabled you make more but your website might get slower also. So better test it to see if it is too disturbing for your visitors or not.

You can get $0.50 - $1.10 CPM. There is also 100% Fill rate. CPM Fun pays every 30 days via Paypal.
VOTING FOR CPM Fun affiliate program.
Please cast your vote for CPM Fun between best or worst.





BEST Pay Per Click with high CPM rates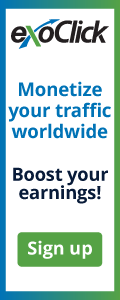 Monetize adult traffic or movie sites