Please if you like CPM Fun program, we will be happy if you recommend it to your friends.
You can easy send CPM Fun link to your friends and they will come here. Share CPM Fun with your friends.


CPM Fun

This company doesn't pay now
THEIR WERE PAYING BUT ION ONE STAGE STOPPED... I HAVE THERE OVER 150USD IN REFERRAL EARNINGS IN LAST 2 YEARS WHICH ARE UNPAID.

CPM Fun is CPM AD network focused on entertainment traffic. Once you have a related website to games, movies, music than do not wait and join them. Watch your revenue growing like never before!

You simply place banners at your site and get paid per every raw impression. You can choose if popups will be shown or only that banner and make even more money. With popups enabled you make more but your website might get slower also. So better test it to see if it is too disturbing for your visitors or not.

You can get $0.50 - $1.10 CPM. There is also 100% Fill rate. CPM Fun pays every 30 days via Paypal.



If you have a friend that you would like to recommend this page to, or if you just wish to send yourself a reminder, here is the easy way to do it!

Simply fill in your name and e-mail address, and the e-mail address of the person(s) you wish to tell about CPM Fun, and click the SEND button.

If you want to, you can also enter a message that will be included on the e-mail.

After sending the e-mail, you will be redirected back to the page you recommended!


Make $100s per day by sharing links.

BEST Pay Per Click with high CPM rates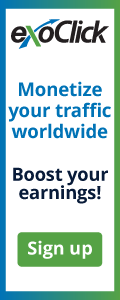 Monetize adult traffic or movie sites