Please rate RevenueResponse affiliate program.
Your opinon and rating of RevenueResponse will other webmaster help to decide to use this program. You can also leave comment on RevenueResponse program and rate it.


RevenueResponse

This company doesn't pay now
SITE RevenueResponse IS SCAM, PAYMENT NEVER ARRIVED AND NO RESPONSE TO EMAILS

RevenueResponse is paying up to $5 for 1000 unique visitors from ANY countries, ANY thematic traffic and ANY kind of resources. You get up to $5 CPM offer, real time statistics, various payment systems such as (Epassporte, Egold, Fethard, Paypal, Webmoney), twice a month payments without holding, opportunities to earn bonuses, Three-tier commissions.
VOTING FOR RevenueResponse affiliate program.
Please cast your vote for RevenueResponse between best or worst.





BEST Pay Per Click with high CPM rates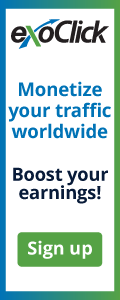 Monetize adult traffic or movie sites